No, the HiFiMan Arya headphone did not go into hiding. It's been retrofitted with HiFiMan's new(ish) Stealth Magnet technology -- hence the new name, Arya Stealth Magnets. Technology is always evolving, and I like the idea that a headphone manufacturer can go back to an existing model and update it accordingly.

Like its predecessor, the new Arya is a planar magnetic headphone with an open-back design, but the new version features HiFiMan's proprietary Stealth Magnets, which were introduced with the SUSVARA in 2019. The magnets feature a special shape that enables waves to pass through the magnets without generating interference. As a result, HiFiMan says, sonics are detailed and transparent; every detail of a recording is exposed without extra noise.
At $1,599, the Arya Stealth Magnets is not cheap, but in the world of Hi-Fi, it may be considered mid-tier. The Arya Stealth Magnets is one of three pairs of headphones in the HiFiMan lineup that cost less than $2,000, with the other two being the Ananda (and the Ananda BT) and the R10D. Fresh off of reviewing the top-of-the-line $6,000 SUSVARA, I was curious to hear how one of HiFiMan's lesser-priced models would sound.
Materials, Quality & Comfort
Arya Stealth Magnets is a dark headphone. I'm not talking about the sound, but rather the design. It's monochromatic, with everything in a shade of black. I think it's pretty sexy and sophisticated, with the variation in tones being key. Some people will love this all-black aesthetic; others might yearn for some metal or wood accents. That's a personal preference. The metal headband is glossy black, which I personally prefer over the silver headband on the SUSVARA. The ear cups and grilles are matte black.
Arya Stealth Magnets is constructed from metal and high-grade plastic, which lends both sturdiness and light weight to the headphone (it's 404g, or about 14 ounces). The head strap is perfectly comfortable but the fabric on the underside is slightly bunchy, which seemed odd to me; minor detail.
The ear cups are designed to mimic the shape of the human ear, and they are beveled to contour the shape of the wearer's head. They are actually pleather with a polyester surface, which HiFiMan says helps to increase sound transparency. I find them to be generously cushy and comfortable. Personally, though, I find the ear cup to be large for my smaller ears and head. I feel like they occupy a sizable portion of side-of-head real estate. With the headband on the tightest setting, the ear cups still grazed the back of my jaw. This wasn't painful, just weird. This isn't a deal breaker for smaller heads, but know that if you have a larger one, you'll probably find this to be a good fit.
The larger size of the ear cups notwithstanding, I find the Arya Stealth to be a relatively comfortable headphone, with a pleasant but secure clamping force, cushy ear pads, and a lighter weight than some other planar magnetic headphones. It's not as light as Dan Clark planar magnetics, but it's lighter than most Audeze planars.
Arya Stealth Magnets shares the same patented Window Shade grills as several other HiFiMan headphones. The goal, in addition to being visually appealing while protecting the driver on this open-back headphone design, is to achieve greater openness in the headphone design. It keeps the sound waves from reflection and refraction to avoid unwanted vibration and distortion. The result, HiFiMan says, is a wider soundstage, outstanding imaging, and remarkable clarity.
HiFiMan's proprietary Stealth Magnets were designed to solve a problem typical of headphones with magnets: sound waves passing through the magnets generate interference. Unlike sound waves generated by conventional magnets, Stealth Magnets feature a special shape that allows sound waves to pass through without generating interference.
HiFiMan's advanced magnet design is acoustically transparent, dramatically reducing wave diffraction turbulence that degrades the integrity of the sound waves. The reduced distortion yields pure sonic output that is accurate and full-range.
The Arya Stealth also features HiFiMan's nanometer thickness diaphragm, guaranteeing fast response and the bare minimum of distortion.
How thin is the diaphragm? It's so thin that if you were to view it from the side, you wouldn't be able to see it.
Also of note is the advanced asymmetrical magnet circuit. HiFiMan says it took years to obtain the optimum balance between high driver efficiency and high sound quality. The innovative design of the double-sided, asymmetrical magnetic circuit is the perfect marriage of the nanometer thick diaphragm and its magnetic partners.
The Arya Stealth Magnets has a sound that is easy to like. It's detailed but not in your face. It's relaxed but not lazy. It's got some treble sweetness to it, but it's not syrupy. I'd describe the sound signature as warm side of neutral. It's not lush or rich, but there's a touch of warmth and musicality here. The midrange sounds pretty forward, with vocals taking center stage in many tracks.
Take, for example, Regina Spektor's "Fidelity." This track combines Spektor's sweet vocals with a fair amount of bass that fills in an otherwise simple track. But what was different here is I was honing in on the tambourine (I think that's what it is) in a new way. This could be seen as a positive, because this track, in addition to being dominated by Spektor's lovely, sweet voice, has a fair bit of bass to it. But here was the Arya Stealth, showing me that a lesser instrument like the tambourine could hold its own in the mix. Spektor's voice here was lovely and distinct. There wasn't a hyper-focus on vocal detail like I get with the TOTL (top of the line) SUSVARA, but it was more than adequate.
Simon and Garfunkel's "Fakin' It" was a mixed bag. Paul Simon's voice sounded lovely as always, and the various instruments complemented each other nicely without any one drowning out the other. The middle of the song, which features a simulation of a man entering a shop with a bell on the door, didn't have the level of detail and realism where I feel like his footsteps are happening outside of my head, but this isn't a hyper-analytical headphone, either.
Switching over to something pop-ish, I cued up Mika's "Grace Kelly," a current favorite. This jaunty, Freddy Mercury-esque number really shone on the Arya Stealth. I got everything: Prominent vocals, snappy bass, energy, small sounds that weren't overshadowed by larger sounds, twinkly piano. Bonus: Mika's voice, when it hits the falsetto range, doesn't pierce my ears. (In general, I felt that the highs are smooth enough to eliminate any listening fatigue. To test sibilance, I cued up a couple of Zeppelin tracks where Robert Plant's diction can be very "ess-y." It didn't bother me at all.)
HiFiMan Arya Stealth with Black Dragon cable and Astell&Kern SP2000T DAP on a pile of record albums
For something moodier and grittier, I turned to an old favorite, Pink Floyd's "Time." This was also quite pleasing to me on the Arya Stealth Magnets. The opening cacophony of alarm bells, which can be downright jarring on an analytical or bright headphones, were sufficiently impactful without piercing my brain. The bassline and gritty guitars drove the song without overpowering either Roger Waters' vocals, the cymbals, or female backing vocals. There was a nice layering of sound here. The slower and mournful outro sounded just right, with Waters' voice taking center stage against a backdrop of lighter guitars and mellow drums. This is a song where choice of headphone can really alter the feeling of the song, and I appreciated that the Arya Stealth Magnets gave me enough detail and "oomph" without shoving things in my face. It was definitely easier on the ears.
A note about drivability: The Arya Stealth Magnets is not difficult to drive, but we always recommend using a high-quality headphone amplifier or DAP with planar magnetic headphones to really bring out their best potential.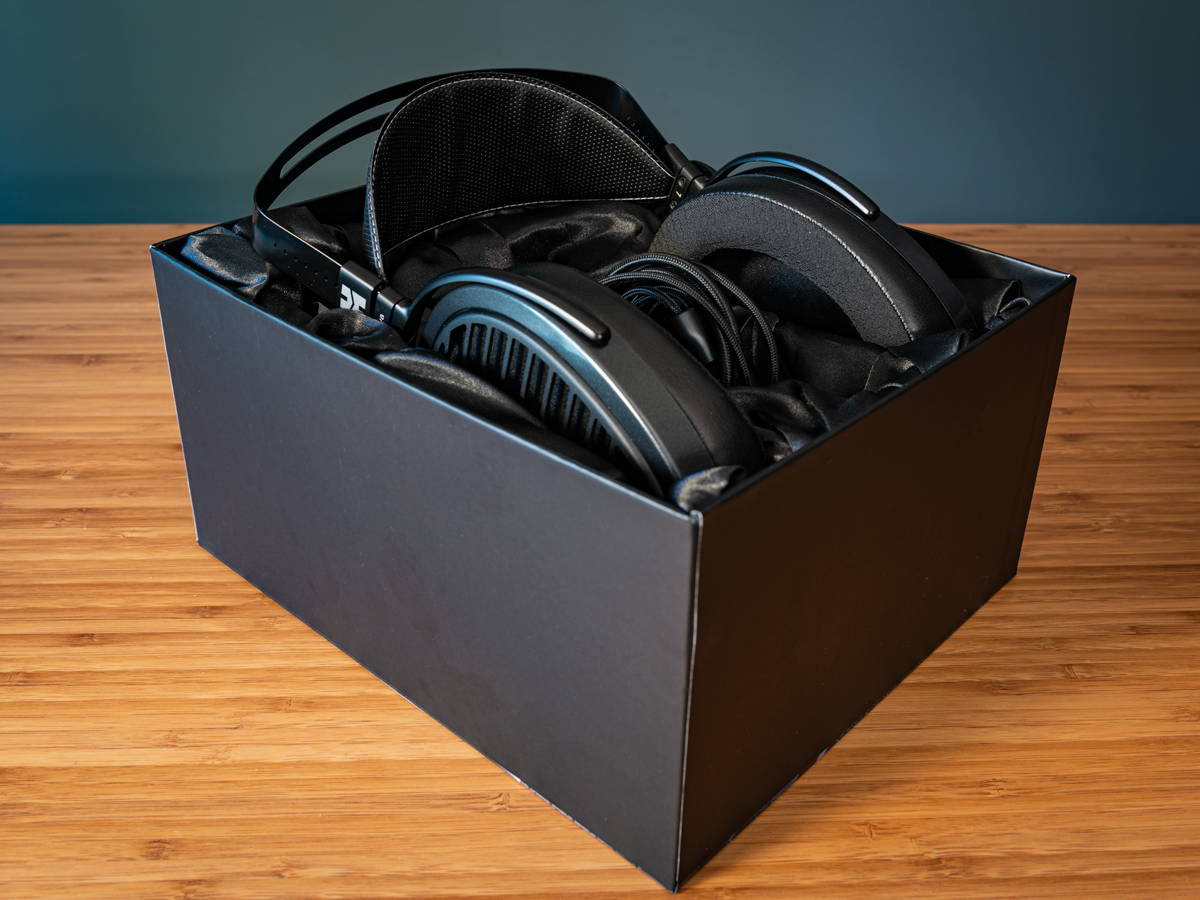 The Verdict
The HiFiMan Arya Stealth Magnets is a marvelous planar magnetic headphone that handily competes with some more expensive models in the HiFiMan family. While not as resolving or as "big" sounding as its big brother, the HE1000V2, the Arya Stealth Magnets delivers a-plenty when it comes to detail married with that smooth planar magnetic sound. It's got robust bass, clear mids, and highs that shine. I would recommend the Arya Stealth Magnets for acoustic and classic rock, heavy metal, pop, blues, country, and folk/Americana. If you're looking for a planar headphone that's lighter on the head (and wallet) than many other planars in its class and still sounds really darn good, then check out the Arya Stealth Magnets. If you own the original Arya and are wondering whether you should upgrade to the Arya Stealth Magnets, just know that it's not a must. If you like the soundstage on the original, stick with it. If you like the Arya but wish it had more bass and were easier to drive, then put the Arya Stealth Magnets on your wishlist.
click here to get this product
AUTHOR: SARA SCHWEIGER
DATE PUBLISHED: OCT 19TH 2021
SOURCE: moon-audio
PHOTOCREDIT: moon-audio